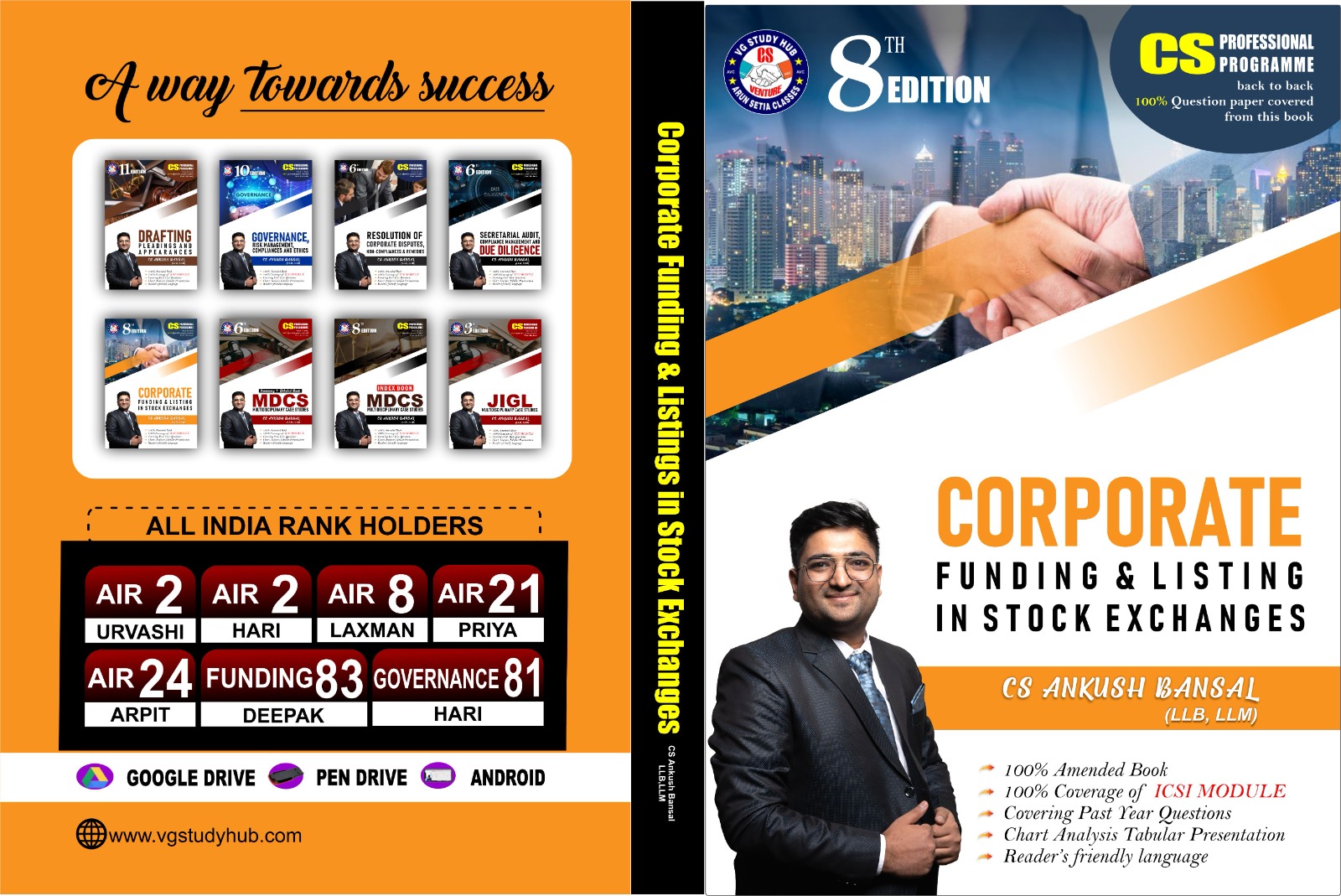 Course Overview
A COMPREHENSIVE BOOK FOR CS PROFESSIONAL PROGRAMME
This book is consist of Amendments made by ICSI, applicable for DEC 2022. This book is written in very lucid and user friendly manner for better understanding and covering all the amendments made by ICSI.
FEATURES OF BOOK:-
1. 100% coverage of ICSI module
2. Covering Past Year Questions with Answers
3. Chart Analysis
4. Tabular Presentation
5. Pictorial presentation
6. User Friendly language
7. All the deeds are written in very lucid language
8. Covering All the amendments.
Edition 6th
Faculty

VG Study Hub

Demo Link

https://www.youtube.com/channel/UCrJOgw6aiIurQxfqriZ_-qQ

Validity

Dec 2023

Study Materials

Hard Copy of books will be only provided in case of non-ebook purchase

System Supported

Windows - Laptop & Desktop - Windows 7 64 bit sp3 and above(except Home basic), Windows 10, Windows 11
* Windows 8 and 8.1 64 bit updated version required. Minimum 2 GB RAM.

Android - Android 7 and above version (minimum RAM 2 GB)

mAC - Mac OS version 12 and above

iOS - iphone 7 and above Version.

*In some Tablets, video screen might be not supported 100% in full screen mode.

* Above mentioned are minimum requirements. 

Language

English + Hindi

Doubt Clearing Session

FACE TO FACE
GOOGLE MEET LIVE
WHATSAPP GROUP
Reviews
Gosh william I'm telling crikey burke I don't want no agro A bit of how's your father bugger all mate off his nut that, what a plonker cuppa owt to do