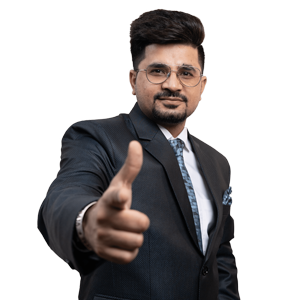 CA VIVEK GABA
CA Vivek Gaba's overwhelming passion for teaching is the reason that made him choose "Teaching" as his career and now, he endeavors to make career of his loving students.
Vivek Gaba qualified as Chartered Accountant at the age of 20 and is a Fellow member of ICAI. Started teaching Taxation Laws in 2014 to CS students.
Since inception, CA Vivek Gaba is teaching only Taxation Laws and over the years, the course has been designed in such as manner that it is simple to understand and taught in a joyous environment.
CA Vivek Gaba plays multiple roles as a Teacher, Guide, Mentor, Motivator, Big Brother and Friend to his students. He focuses upon overall development of the student.
In 2019, CA Vivek Gaba was the speaker of Josh Talk and shared his journey of becoming a Chartered Accountant. The video has received more than 1.1 million views till date.
"CA Vivek Gaba – VG STUDY HUB" is the YouTube channel of CA Vivek Gaba and has around 87k followers. The channel is loved by the students.



Related Course
You don't have to struggle alone, you've got our assistance and help.